Believe it or not, we get this question often. People see our deals and promotions and think they're too good to be true! So how legit is Muscle & Strength? We've been around a while, longer than most people think. Muscle & Strength was founded in 2006 as a content site and we sold our first supplement (Animal Pak!) in 2008. Since our humble beginnings as a two person operation in 3k square feet we've grown into one of the most recognized and trusted retailers in the sports nutrition industry.
To give you a little more insight into our Company we've put together some facts about us you might find interesting.
Interesting (Legit) Facts About M&S
Our Headquarters Is Legit
The M&S Headquarters is located in Columbia, South Carolina, USA. It's a 60k square foot distribution center and office building which used to a FedEx Hub for the region. The building and grounds were customized for us in 2014 to include 8k square feet of office space, facilities for filming video content, and custom spaces for meeting Vendors and testing products.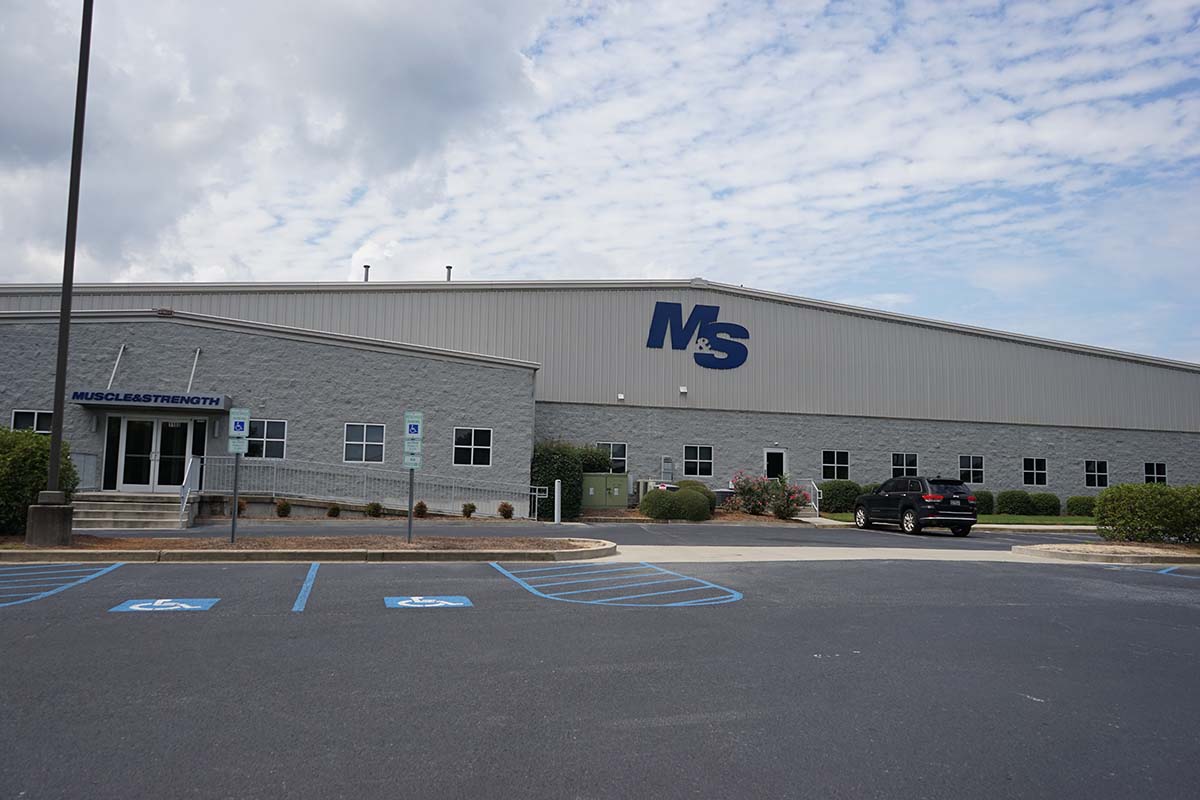 M&S Headquarters
Some Cool Drone Footage
Our Team is Legit
Our 55+ strong team consists of experts in business management, logistics, product development, marketing, and customer service. Most of the team working in our Headquarters in Columbia, South Carolina, USA but we also have people in Canada, North Carolina, USA and the UK. We're super driven and entrepreneurial which is how we're able to provide the value and experience to our customers with a much smaller teams the our competitors.
Our Deals Are Legit
Some people see our deals and think they're too good to be true. That's probably why you're here :) What you see on the site is 100% legit, but usually time limited. Our deals change 2-3 times per week so if you see something you like grab it before we sell out or it changes.
We're able to offer such unbeatable deals because of the strong partnerships we have with the brands we sell. We work closely with the best brands (see the next paragraph) to deliver the best value for money to our customers.
We Only Sell Legit Brands
We view brands as an extension of our business which is why we only partner with brands that meet out standards for product quality, good manufacturing practices, business integrity and customer support. We work directly with brands to ensure we share the same values. Every brand we sell subscribes to our 100% money back guarantee program we offer our customers. You'll find all the best brands at Muscle & Strength including MuscleTech, NOW Foods, MusclePharm, Optimum Nutrition, Nutrex Research and Cellucor.
To view a full list of all the brands we carry check out our brands page.
We Work With Legit Athletes
Have you see our YouTube Channel? We work with some of the biggest names in bodybuilding and fitness. Legends like Ronnie Coleman and Jay Cutler have been to our HQ to shoot videos on training, nutrition and motivation. Some of the top names in fitness today (CBUM, Sadik, Seth Feroce etc) work with us regularly. Here's a couple of legendary videos we've posted on our channel:
Inside 4x Mr Olympia Jay Cutler's House
8x Mr Olympia Ronnie Coleman's Memories at MetroFlex,TX
How to Grow Your Arms With 5x Mr Olympia Phil Heath
Our Customers Know We're Legit
We're in the service business, not the sales business. Customer service has been at the core of our business since day one and our customers know they will always be taken care of when they shop with us. That, combined with unbeatable deals and pricing, has earned us an outstanding reputation. We use Shopper Approved, Google Reviews and TrustPilot to collect independent reviews about how we're doing. Combined, they have collected over 275k reviews and we have an average rating of 4.8 out of 5 stars. So if you haven't tried shopping with us before we encourage you to read the reviews on these sites:
We Ship Everywhere!
From our headquarters in Columbia, SC, USA we ship worldwide. In fact, we ship to over 150 countries, and we've been doing it for a long time. In addition to shipping our products globally, we also offer localized payment options in over 40 countries.
100% Satisfaction Guarantee
Still not convinced we're legit? We offer a 100% satisfaction guarantee on everything we sell. You can even use the whole product and send us back the empty tub and we'll give you your money back if you're not completely satisfied.
Still need to know more?
You can get in contact with your team via chat, email