The amount you pay for international shipping depends on the weight of your package, where you're shipping to, and the shipping method you choose.
We have negotiated very competitive rates with our shipping partners and we pass those savings to our customers. What you see on site is what we pay, no markups or handling charges!
It's important to note that duties and local taxes are not included in shipping rates. You may be charged duties and local taxes on receipt of your package. For more information please read our Duties & Taxes page.
How to Calculate Shipping Cost
Calculating shipping is easy. Just follow these 3 steps:
Add the products you'd like to buy to your shopping cart
Use "estimate shipping" tool (pictured below) on the shopping cart page to display the options available
Choose an option that works for you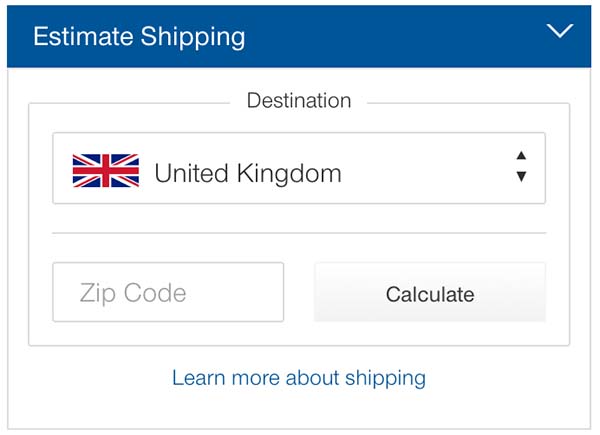 Estimate Shipping Tool
International Shipping Services

DHL eCommerce
We offer 3 services from DHL eCommerce. In most countries these services will be the most cost effective. Details about each service below:
DHL Global Mail
In most cases this will be the lowest cost method available. DHL partners with local government postal services to deliver your package. Packages are typically handed off to the United States Postal Service (USPS) inside the USA for international air freight and then passed to your local government postal service when landing in your country. Tracking on this method can be unreliable because of the handoff to multiple shipping providers.
DHL Global Mail Plus
Typically the Plus method is faster than Global Mail and has more reliable tracking. DHL usually partners with a courier in your country to deliver the package to you once its cleared customs. You will usually get two tracking numbers with your package, one to track the package in the DHL network and another to track your package with the local courier service.
DHL Global Mail Direct
Similar the Plus method, DHL partners with local couriers to deliver your package to your door. When using this method customs clearance is usually handled by DHL resulting in shorter clearance times. We recommend choosing the Direct method where available as it typically has faster delivery times and the most reliable tracking.
In some countries Global Mail Direct will also allow you to pay the local taxes on your order up front, no surprises at the door! We're working with DHL to roll this out to more countries.
FedEx International
We offer 2 services from FedEx, FedEx International Economy and FedEx International Priority. Both of these methods are fast, reliable and have excellent tracking. The difference between the two is delivery time, Economy usually takes an additional 2-3 days longer then Priority.
FedEx usually handles the customs clearance and delivery in your country so tracking updates and communication if there's an issue with delivery is excellent.

DHL Express
In most cases DHL Express is the fastest shipping option available. DHL's express network is huge which means they usually handle your package in-house from our Headquarters to your door. Tracking is excellent, and communication with us and you if needed is great.